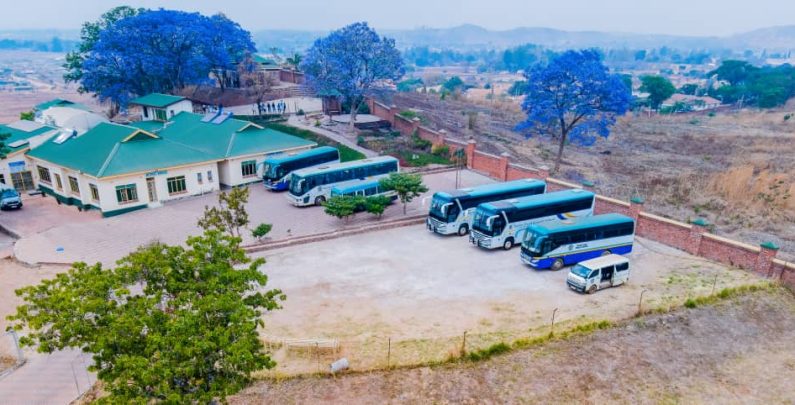 Greetings to you all.
We hope and trust this letter finds you well and we thank God for protecting and keeping us all. We would like to thank all parents and guardians for entrusting us with these precious children. Mother Touch Senior School (MTSS), is the School of excellence, where Global, God-fearing leaders are groomed in line with our mandate which is to identify the child's talent and nurture and develop the learner holistically.
Curriculum
We offer a rich and wide curriculum comprising ZIMSEC, Cambridge, HEXCO, DELF, and HSK boards.
Staffing
More highly qualified and experienced teachers who are results-oriented have been engaged as the vision continues to grow. These include Mr. Chiwaya the Physics teacher and Mrs. Muchirahondo the English and literature teacher.
Starting Time
Our school starts at 0715hrs ending at 1500hrs from Monday to Thursday. On Friday school ends at 1300hrs. Monday and Friday are our assembly days and all learners are expected to put on clean, complete, and correct uniforms with blazers. Our sports days are Tuesday and Thursday and every learner should be in his or her full sporting attire.
Uniforms
All learners are expected to put on the correct, complete, and clean MTSS uniform with a neat hairdo as they come to school daily. We remind parents that our school uniforms are available at the school. New learners should purchase the school starter pack which includes all uniforms such as formal school attire, sports attire, Agriculture work suits, gumshoes, white dust coat for T.G., bags, and other items. Branded satchel is compulsory. We have made this decision based on the need to improve quality and excellent school tone. Be advised that plastic bags will not be accepted as bags or kit bags. School hats are
compulsory. School hat is for the well-being of the child as direct sunlight can lead to serious health challenges. It is the School policy for all learners to put on hats outside the classroom.
Teaching and Learning
The following are some of the strategies that we are employing to improve the quality of our results. –
We do fortnightly, monthly, mid-term assessments, and end-of-term examinations. Leaners identified to be legging behind are given remedial work every Friday from 13:00hrs to 15:00hrs.
Teaching time has been extended from 7:15hrs to 15:00hrs for exam classes on Friday.
Monthly tests will be given and parents will get some feedback on the performance of the learners. Daily homework is mandatory. Parents are encouraged to monitor the learners at home. Teachers have already started working on Continuous Assessment of Learner Activity (CALA.) Parents are encouraged to support the learners when doing CALA as it requires a lot of materials and guidance.
Registration.
Cambridge, ZIMSEC, DELF, HSK, and HEXCO syllabus.
All the Advanced level learners will write Cambridge. However, we have a few O-level learners who would like to sit for the ZIMSEC syllabus and will write Shona, FRS, Literature in English, and TG. Math, Geography, Physics, Chemistry, Accounting, Business Studies, and Economics will be registered with the Cambridge syllabus.
Last year's subject registration was as follows; –
· 'O' level ZIMSEC was USD$ 24 equivalents per subject.
· 'O' level Cambridge was USD$80 per subject
· 'A' level Cambridge was USD$115 per subject.
· HEXCO was USD$40 per subject.
· DELF was USD35 per subject.
· HSK was USD25 per subject.
Parents are encouraged to start preparing for the registration fees with the given guidance.
Cambridge textbooks.
As we continue to thrive for excellent results for our learners, the school has invested greatly in purchasing Cambridge textbooks for all the departments. Learners are requested to pay USD $50 towards renting the books. This is a once-off payment that will enable the school to buy more textbooks. Learners who lose books will be requested to replace them.
EVENTS
The following events shall be done this term as follows: –
Meet the Teacher
In our endeavour to promote inclusive education and good rapport with our parents, guardians, and all stakeholders, we have the Meet the Teacher event. On 20 January, Form 1 and 2 parents will meet the teachers from 8:00hrs to 10:00 hrs while form 3 to 6 will come from 11:00hrs to 13:00hrs on the same day. We encourage all parents/ guardians to come and discuss with the teachers and get to know the school and teachers' expectations and requirements.
NB. Kindly note that this is not a consultation day.
Career Expo.
MTSS will be hosting a Career expo on 24 March 2023. The purpose of this event is to expose learners to a variety of career opportunities within the country and beyond borders. This will develop their knowledge, skills, and attitude through a planned program of experiences to enable learners to make informed decisions that have a big impact on their lives. Facilitators/Personal from different institutions will be invited on the day to showcase different areas of occupation.
Prefects Training
We thank God for successfully ordaining the 2023 MTSS learners' leadership into office. The prefects had a 2-day training from 7 to 8 January with very experienced personnel (SCORT). This is a very important way of developing Great, Global, God-fearing leaders. The prefects will continue to be trained in leadership during the term.
Leadership Training
In order to marry theory and practice as stipulated by the New Curriculum and 21st Century learning methods, the school makes it mandatory for learners to undertake leadership training. The leadership training is meant to build confident, assertive, and well-groomed honest leaders who are bound to be trendsetters and world changers. All our learners from form 1 to 6 will go through such training throughout the year at a fee to be communicated.
Boys and Girls meeting
Boys and Girls meetings shall be done fortnightly to help learners to overcome the issues that affect teenagers and others. Outside facilitators in different fields will be invited to teach the learners.
Extra-curriculum
This first term learners will participate in the following non-contact disciplines as we are still in the COVID era:
· Athletics
· Badminton
· Cricket
· Tennis
The School will engage in aerobics for every 30 minutes before sports start for body fitness.
Clubs
Learners are encouraged to participate in at least one of the following clubs as these develop and enhance some life skills and competence.
· Toast Master– aims to foster leadership and communication skills in learners so that they become confident.
· Environmental club– to help learners acquire knowledge on how to manage natural resources and protect the environment and help society how control waste in their areas.
· Youth against Aids– to inform learners about the pandemic and any other diseases on ways to prevent, treat and manage those who are infected and or affected by the disease.
· Christian in Action -to inculcate moral values and instill discipline in learners so that they become God-fearing citizens.
· First Aid– to enhance disaster preparedness and positive response among learners so that they are socially responsible.
· Young Farmers– to impart agriculture production and financial management skills that can be used now and after graduation.
· Chess– to promote the mental health of the learners by developing concentration, skills, and strategic thinking which will help improve learners' survival skills in day-to-day life.
· Music, Arts, and Drama -to enhance learners with musical arts and drama entrepreneurship skills.
· French– to provide opportunities for learners to practice French speaking skills beyond the classroom.
· Chinese -to appreciate the Chinese language and culture in preparation for the Chinese spoken exam.
· Guidance and Counselling -to eliminate child abuse and gender-based violence by creating awareness among learners on what child abuse is, who the perpetrators are, and how to deal with child abuse and gender-based violence at school and in society.
· Entrepreneur– to assist learners in converting ideas, passion, and dreams into a business
· Science club– to encourage learners to become techno-perineurial by harnessing scientific knowledge to solve real-world problems for the benefit of the school and society at large.
· Traffic Safety and Culinary arts– for life skills.
Allied Arts
MTSS will participate in Allied Art Music Competition throughout the year. We encourage parents to support the learners with the required resources as this is part of the curriculum.
Nonboarders
Lunch may be provided to non-boarder learners at a fee of USD$100 for the term.
Transport and Boarding places
School transport is available on a first come first serve basis. Parents are therefore encouraged to book for term 2, 2023 transport as soon as possible to avoid inconveniences and to allow the school to plan on routes early for smooth operations. On that note, we would like to remind our old and notify our new parents that we do not do door-to-door pickups. On booking, parents are encouraged to check for the nearest possible bus stop. Boarding learners should pay a 20% deposit the last week of the closing of a school to indicate they will be coming back.
Gadgets
Please be advised that learners are not allowed to bring laptops and cell phones to school except for the 'A' levels only.
Communication
As MTSS, we believe in 2-way communication which is key to our organizational growth. MTSS communication is through e-mails, website, newsletter, and by the word of mouth through the learners. Parents are therefore requested to acknowledge receiving newsletters and all other communication. All the school reports will be sent through e-mail; hence parents should provide the school with current communication details.
2023 Form 1 and Lower 6 Enrolment
2023 form 1 class are full. Lower 6 enrolments are in progress and classes are almost full as we have enrolled with Cambridge results. We will wait for the ZIMSEC results to fill the remaining places.
The following requirements are needed: –
· Registration fee of USD$50
· Copy of birth certificate
· 1 passport-size photo.
· Copy of latest report.
· Copy of parent/guardian(s) ID.
· Copy of proof of residence.
Fees payments
Fees for 2023 remain as follows: –
· Forms 1 to 4 – USD$350
· Form 5 and 6 – USD$400.
· Boarding House – USD$800
· Parents can deposit the money in the following account numbers
Banc ABC, Heritage branch, ZW 12555355402010 / USD 12555356633019.
In conclusion, let's work together to encourage and monitor the behavior of our learners at home, academic progress, use of electronic gadgets, and the time the learners get home. A disciplined child is easy to teach.
We keep thanking God for His guidance and protection.
Schools are closing on 30 March 2023.
For further clarification and inquiries call our Administrator/ bursar at 0772 318 890.
Mrs. S. Mabika
Head
For and on behalf of Mother Touch Group of Schools